My Reviews
NJBaseballleague69
Added on May 15, 2017
Just saw Gilly last week! She has had my attention from day one. I am normally see ladies who offer 30 or 60 minutes
I see Agency escorts all over, with Gilly you know she wants to be there. At first, I didn't get why she had to take off of work. She checks in like 2 hours before a client get's there. She had so many candle's lit. I am trying to keep it pg but gilly has a really really naughty streak. I am Dom too. brought some things. These bitches roll their eyes at me, or they are late, gorgeous girls with major ego trips. Gilly plans an actual date it feels like to me. Just smelling her I get hard. Knowing that I am the only dude that has touched her all day. That's why she is really unique. I just called her and, when I want a cute little nymphette type she is the one. she loves this shit too. i read some dude said to be gentle with her nips, very true.. ummm u gotta check her out. I can't explain it sorry gilly hope this was pg when she greeted me i swear she strattled me! good thing i am a big guy
Scott
Added on February 26, 2017
What an amazing lady! I am a "newbie" and Gillian Rose made me feel comfortable from our first contact. When we finally met she was amazing and we had a wonderful evening. Treat her well and you will get to spend time with a very sexy lady. Amazing!
Ben
Added on February 21, 2017
Not many girls will see a man who has a handicap. I served over in Iraq and, never thought I would call Or look online for companionship, let's face it men we have our ego's. Just being with her makes me feel like a man again. Coming back handicapped you feel less of a man. I need to feel like a real man again.
Johnny
Added on February 16, 2017
Just saw a for the first time. I don't see alot of girls actually she was my first and she made me very comfortable for being a first timer. It was the best first experience with a very caring professional who cares pleasing her clients. I will definitely be returning and becoming a regular with her. Call her now for a memorable night!
Christian A.
Added on February 16, 2017
Forgot to do this. Saw her twice in January Sweet , established , high education it shows, gorgeous, I do see a lot of girls Gillian is just different. Your a hobbyist that's bored with the pros I would call her NOW She hasn't been booking as much dnt know why
WRITE A REVIEW
Ads by PureClicks.com
These are Reviews from my Website very first Website. I am on Eccie.
Of Course, TER, which I am SO HAPPY THEY
ARE DOWN. You can block your VPN but you will see my name and, it shows I have almost all stars but, to be a perfect gal you have to do Greek and, other things. Plus, a true lady keeps her business behind the closed doors.
Sometimes you can't see all the reviews on here but, I am on P411
https://www.preferred411.com/P255524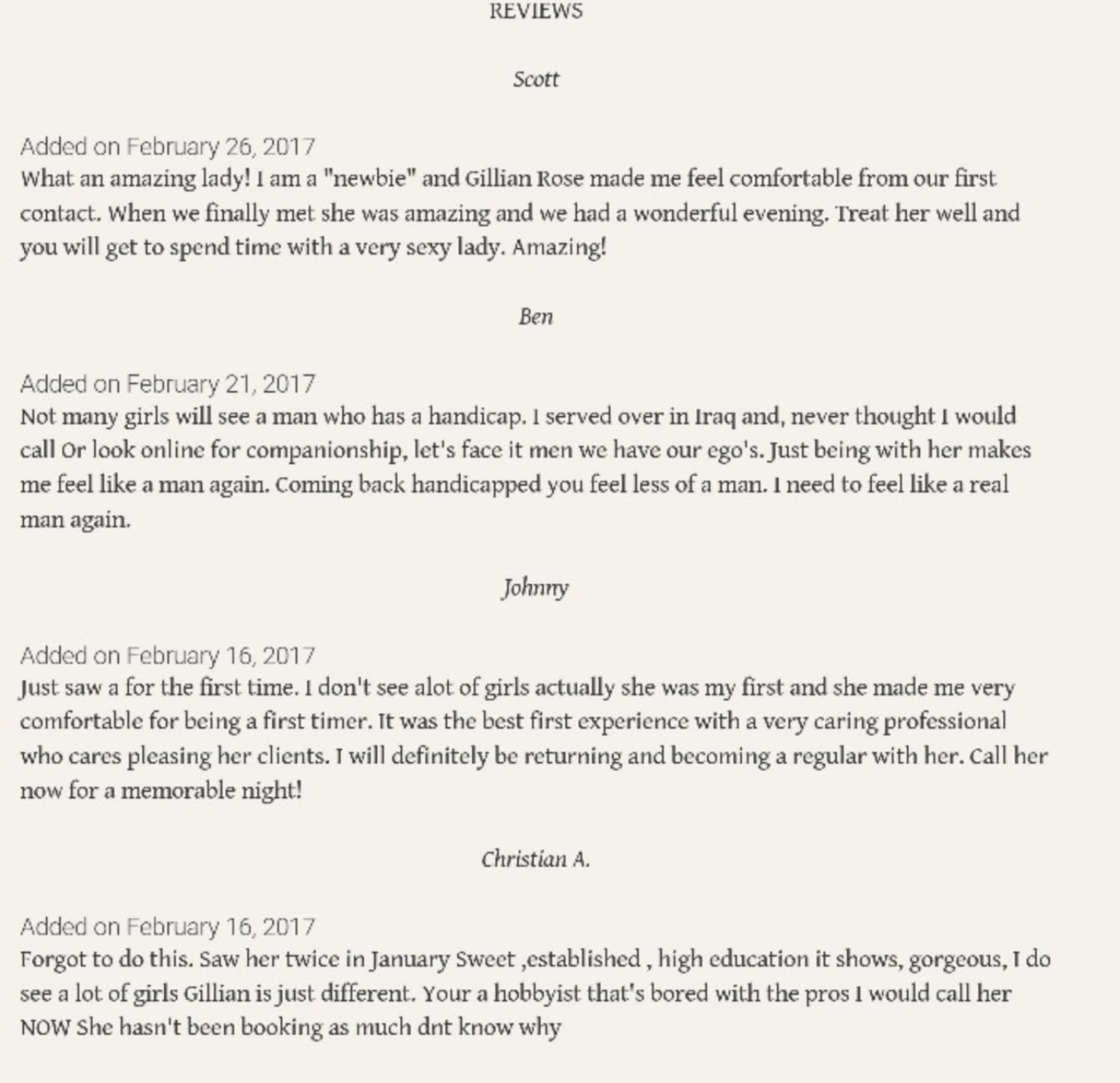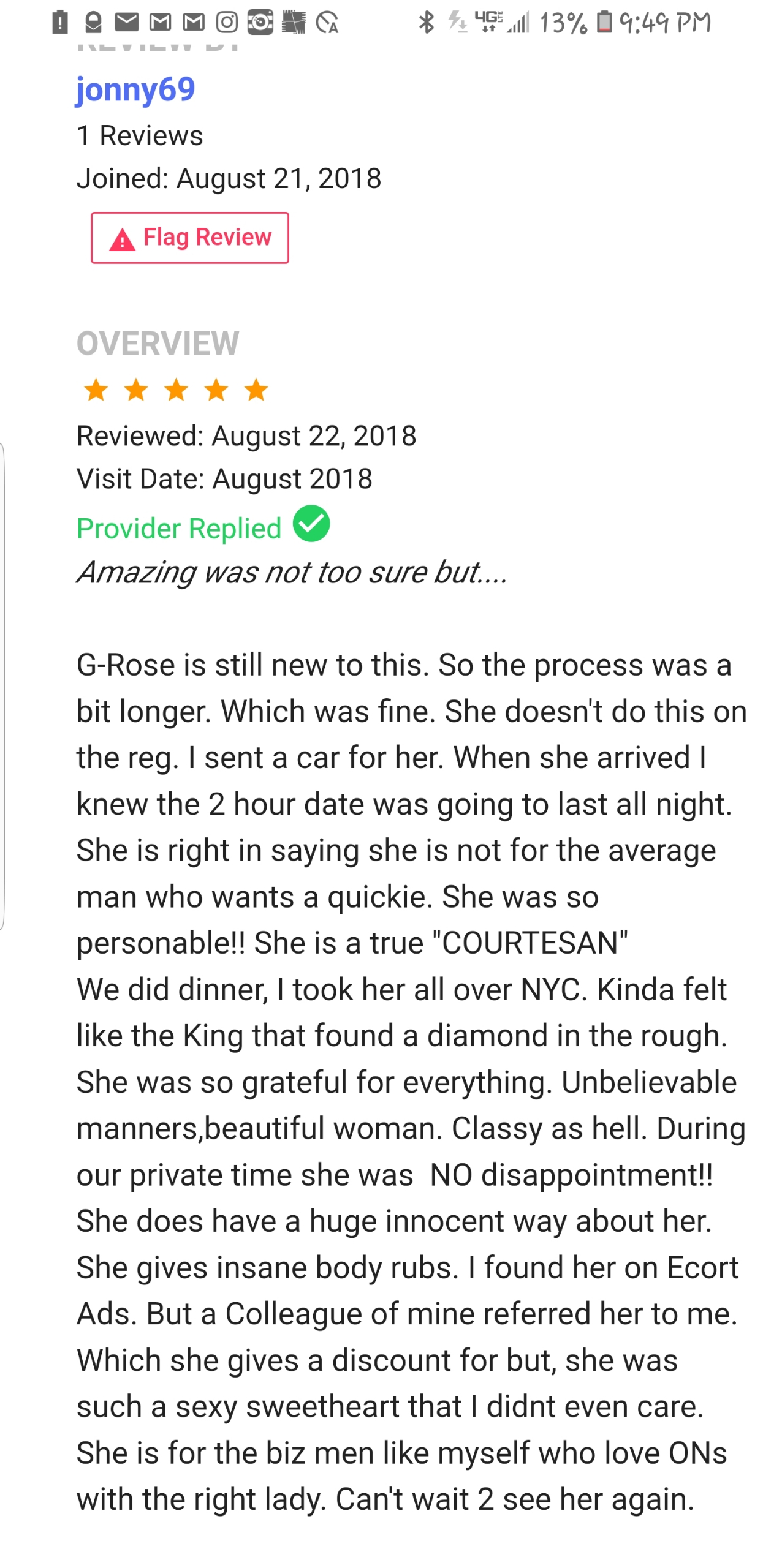 NEW YORK HOTTNESS
Oct 19, 2018
Great for Newbies
Oct 16, 2018
EROTIC MONKEY
Sep 20, 2018
Yankeefan6969@yahoo.com
Sep 07, 2018